Warrior Princess
Posts: 1519
Joined: Fri Jul 08, 2011 8:37 pm
Has thanked: 1784 times
Been thanked: 229 times
@mili
thank you for posting that.
Kerem is incredible and all his facials expressions....the boy is a true Texan.
---
Guru
Posts: 3388
Joined: Fri Sep 27, 2013 2:48 pm
Has thanked: 465 times
Been thanked: 246 times


Hahahha what the hell did I just see? :D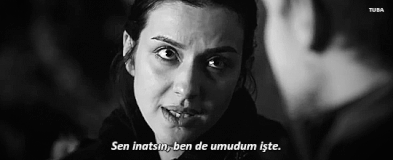 Daha o gün anlamıştım Feride, ben ömrümce seninle sınanacaktım .Yakub'un Yusuf'la İbrahim'in İsak'la Habil'in Kabil'le sınandığı gibi . Sen koca bir yalnızlığı bense sensizliği bardak bardak içecektim.
---
Sultan
Posts: 23182
Joined: Wed Jan 04, 2017 2:45 am
Has thanked: 3141 times
Been thanked: 5713 times
This is from Aynen Aynen show he did with Nilperi.
They were amazing, he replaced Uraz.
---
Hakim
Posts: 13509
Joined: Wed Oct 19, 2016 4:56 pm
Has thanked: 7716 times
Been thanked: 2760 times
I don't know if that has been posted before, ama...
---